Light duty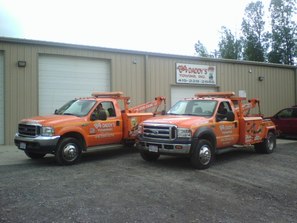 We have the largest fleet of wreckers in Allen county to serve you, running thousands of calls a year. We are totally customer based, we do no private tow aways, or predatory towing. We want to keep you moving. Here is a list of some of our equipment for service in our light duty class
2 Ford f450 super
4 Ford F550 super duty or dodge 5500 wreckers
2 ford f650 flatbeds
---
DID YOU KNOW some days we service 70 customers in a single day!
---
Law enforcement

Ohio State Patrol
Allen County Sheriff Department
Lima Police Department
Fort Shawnee Police
Shawnee Twp Police Department
Perry Twp Police Deptartment
and others....

Car dealerships

Tom Ahl family of dealerships
Tom Ahl Under 10
Allan Nott Honda Toyota Scion
Lima Auto Mall Chevrolet
Reneike Fords and others......

Local Business

PTI
Uhaul
Easter tire
Enterprise Rental Car
USPS
and others....
What we need when you call for HELP
Year make and model of vehicle
Location of vehicle i.e. Address
If location is a residence or business....lot number
Color, identifying stickers or traits
What is wrong with the vehicle
Address for location to deliver vehicle to (unless local shop)
If you are with the vehicle, and if the keys are with vehicle
A return phone number is also helpful
Method of payment

---
DID YOU KNOW we service 1 out of every 11 people in all of Allen County each year! Over 11000 calls last year!

UPDATE!
We are on pace for 14000 calls for 2012!
---