About Us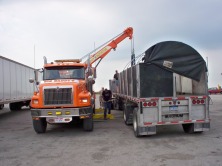 Big Daddy's Towing Inc. was started in the mid 70's in Kalida Ohio by Karl Vorst. It was brought to Lima in the 1980's, changed hands and moved in the 90's. We took over the business in 1998 and movied the company to a new building at 3615 St. Johns Road. We have since expanded our fleet of trucks and equipment to modernize and be able to give the level of service that a quickly growing business must achieve.
---
Address

Big Daddy's Towing
3615 St. Johns Rd.
Lima, Ohio 45804

Office Hours , phone number

Monday thru Friday 8 a.m.to 5 p.m.
Tel: (419) 228-2886
Fax: (419) 229-1899
---
Community involvement
---
Training
---
Accidents and Impounds
In the event Someones car would be brought back to our storage lot from an accident or impound you may retrieve your vehicle during office hours of Monday thru Friday 8a-5p. To get your vehicle released you must have all of the following

License or state ID proving ownership of vehicle
Nobody else will be allowed into your vehicle without proper permissions
All necessary paperwork for release
Signature on invoice aknowledging we have the vehicle
Payment for all bills including storage, tow fees, etc.
Cash only or credit card accepted on impounds or wrecks
---
Operator Employment opportunites
Below is a simple application to let us know of people interested in joining our company.
5 day work week
No cdl required
Salary plus commisions
Must be 21 ( insurance)
Must pass background check , no felons ie: sex offenders, violence, identity theft.
Good driving record ie: no reckless operation, dui, 3 or more tickets
Must be able to pass dot physical
Must live in Lima ( say between bluelick, mumaugh, easttown, breese )
Work from home in the evenings and do calls as they come in.


Please check that everything required is filled in. When you have clicked submit please scroll back to bottom to make sure it went through. Thank You